Vertebral Artery Stenting Procedure
The carotid and vertebral arteries in the neck carry blood to the brain, brainstem, and upper spinal cord. These arteries may completely get blocked or become narrower. Restoring or enhancing blood flow in the narrowed arteries, reduces the risk of a potentially life-threatening stroke. Surgery in which the plaque is removed from the artery has been a long-standing treatment for restoring blood flow to the carotid arteries. However, a much newer FDA-approved technique called carotid artery stenting is a minimally-invasive procedure provides an alternative to surgery.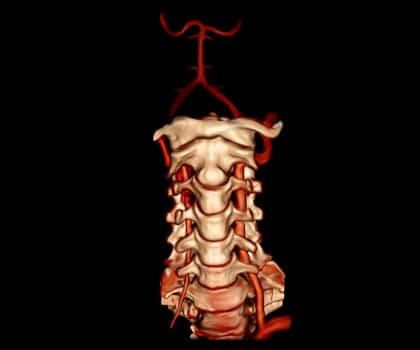 Carotid Artery Stenting is a much less invasive than surgery, which usually has a shorter recovery time. Determined by a team of doctors treating you. Some reasons forcing you into selecting stenting over surgery are:
You are considered high risk for surgery.
You cannot undergo general anesthesia.
Q. What to expect before Vertebral Artery Stenting?
A. If you appear to be a candidate for carotid or vertebral artery stenting, you will undergo various exams before the procedure including cerebral angiography with CT or MRI. These exams will help the interventional neuroradiologists confirm your eligibility for the procedure and plan treatment.
Q. What to expect during the Exam?
You will change into a gown
A technologist will answer your questions then start an intravenous (IV) line in your arm
Heart rate and Blood Pressure are monitored by the technologist by setting up some devices.
An anesthesiologist will administer intravenous conscious sedation or general anesthesia. If you are given general anesthesia, you will sleep during the procedure
The site of the groin incision will be cleansed.
The groin incision will be made and the catheter will be inserted into the femoral artery
The radiologists will try to insert a catheter to the carotid artery, through fluoroscope images.
The radiologist will then guide a stent through the catheter and place it in the narrowed section of the artery. The stent will automatically expand against the vessel walls, reducing or eliminating the narrowing
The catheter will be withdrawn and the incision cleaned and taped
The procedure usually takes 1-2 hours to complete, Patients are observed in the Intensive Care Unit overnight following the procedure. Most patients are often discharged the following day.
Q. What to expect after the Vertebral Artery Stenting?
A. After the procedure, you will continue with antiplatelet medication. It will be prescribed by the physician performing the procedure.