A Renowned Vascular Clinic for Diabetic PAD Stenting
Peripheral Arterial Disease (PAD), also known as Peripheral Vascular Disease (PVD), which is a very common condition affecting people age 65 and older. PAD occurs when the Cholesterol and the scar tissue is built up by forming a substance, Plaque, inside the arteries. PAD is a serious condition that is developed as a result of the hardening of the arteries or Atherosclerosis.
Diabetic PAD Stenting is the best procedure for Diabetic Foot Vascular Surgery followed by our Vascular Interventions.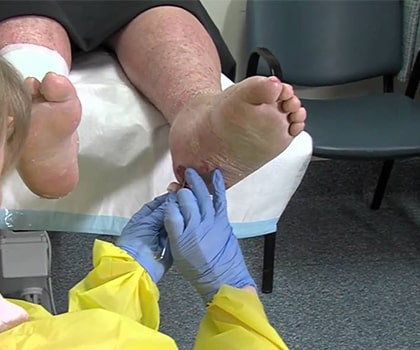 The clogged arteries cause faded blood flow to the legs, which may lead to pain while walking and eventually gangrene and amputation.
Because atherosclerosis is a systemic disease (that is, affects the body as a whole), individuals with PAD are liable to have blocked arteries in other areas of the body. Thus, those with PAD are at increased possibility for heart disease, aortic aneurysms, and stroke. PAD is also a sign of diabetes, hypertension, and other conditions.
PAD may also be caused by blood clots.